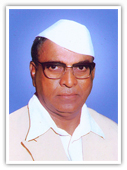 Late Hon Shri P.D. Patil Saheb, the Chairman, Board for Higher Education and Chief Patron of Shri Shivaji Education Society, Karad has heartily played unique role to the overall progress and development of the city of Karad. He was elected as the member of Maharashtra Legislative Assembly for two times. It is our privilege to mention that his name features in the 'Guinness Book of World Record' for being elected as the President of Karad Municipality for forty three consecutive years. He is the founder president of the Sahyadri co-op Sugar Factory Ltd. Karad and Sahyadri co-op Bank Ltd. Karad. In the long tenure of his able and mature leadership, the city of Karad has achieved an unprecedented progress and distinction in various fields. It has certainly earmarked Karad as an ideal and significant city in India.

Late Hon. P.D. Patil, an Ex.MLA Karad (North) and staunch follower of Late Shri Yashwantraoji Chavan, has continually tried to maintain a good Academic Record, Research Ambience and Quality Standard in the College. The management under his leadership developed and built up the essential infrastructure facilities.
The Management of the college is always conscious about the maintenance of high academic ambience and infrastructure. The members of the Management and the Principal often encourage the faculty to undertake various academic schemes by providing them with all basic and necessary facilities. They also the faculty with all necessary financial support for academic as well as depute the teachers to attend Refresher Courses, Orientation Programmes, Seminars, Conferences, Workshops, Academic Training Programme, Symposiums, Lead College Activities etc. in order to update and enhance their knowledge and professional skills.
It is a noteworthy thing to mention that the college Management under the dynamic leadership of Hon. Prakashrao Patil (Bapu), the secretary, Shri Shivaji Education Society Trust Karad is very keen on maintaining the high quality standards in almost all spheres and aspects of the college. All the members of the management, deeply enlightened by the high ideals cherished by Late Hon. Y.B. Chavan and Late Hon. P.D. Patil Saheb are keen on the smooth, effective and transparent administration of the college.
"Knowledge is nothing but an application of common sense and wisdom."